Gifts by Artists
Ground Floor Gallery
343 5th Street
Brooklyn, New York 11215

December 14- December 31, 2018
Opening December 14, 2018

---
THE SOUTHWEST BROOKLYN BIENNIAL
KUSTERA PROJECTS RED HOOK
57 Wolcott Street
Brooklyn, NY 11231

October 13 - November 30, 2018

Opening Sat Oct 13 6-9pm
---
SVA Makers Market
SVA Makers Market @ Renegade Craft
Saturday, November 17
11am - 5pm
Metropolitan Pavilion, The Suite
123 West 18 Street, 2nd Floor
SVA's Makers Market joins forces with
Renegade Craft
for a one-day showcase of exclusively alumni-made items such as apparel and accessories, furniture, jewelry, housewares, stationery, self-published books, zines and comics, plus more.
SVA's Makers Market is a DIY product fair highlighting the creative, entrepreneurial spirit of SVA alumni, bringing together some of the brightest talent in craft and design.
---
RE: Visit - present work by past artists
Curated by Stephanie Bok and Joseph Walton
Gallery Three at South Oxford Space
Alliance of Resident Theatres/New York (A.R.T./New York)
138 S. Oxford Street
Brooklyn, NY 11217

November 1, 2018 – January 31, 2019


---
18th Asian Art Biennale Bangladesh 2018
Bangladesh Shilpakala Academy
Dhaka, Bangladesh

September 1 - 30, 2018
---
Allow me to Reintroduce Myself, Curated by Krista Scenna and Carolina Peñafiel
Cigar Factory LIC
9-20 35th Ave, Long Island City, NY 11106

Welcome Party: Thursday, June 21, 5 - 9pm
Closing Party: Thursday, July 19th, 5 - 9pm
---
2018 SVA Makers Market
Makers Market at Artists & Flease
New York, NY
Saturday, June 09, 2018
---
ARTWALK NY 2017
November 29, 2017
Spring Studios
New York, NY

ArtWalkNY auction is live on Paddle8Live auction
https://paddle8.com/auction/artwalk/
---
The Expanding Matrix, Curated by Fred Fleisher
The Amelie A. Wallace Gallery
SUNY College at Old Westbury
Route 107, Old Westbury, NY 11568

October 26 - November 30, 2017
Opening: Thursday October 26th

Participating artists: Jude Broughan / Marguerite Day / Sandra Desando / Alyssa Fanning / Nava Gidanian-Kagan / Asano Gomez / Susan Graham / Allison Green / Patty Harris / Ketta Ioannidou / Vandana Jain / Laura Karetzky / Joanne Leah / Mary Mattingly / Tricia McLaughlin / Margaret Murphy / Rachel Phillips / Laurie Riccadonna / Adie Russell / Janice Sloane / Savannah Spirit / Kathleen Vance / Michelle Vitale
---
P.S. 118 The Maurice Sendak Community School Art Benefit
Organized by Chris Bors & Ketta Ioannidou
Ground Floor Gallery
343 5th St, Brooklyn, NY 11215

October 18, 7 – 9 PM

Artists: Fanny Allié, Matt Barteluce, Jackie Battenfield, Anna Bida, Chris Bors, Deborah Brown, Alva Calymayor, Karlos Cárcamo, Eun Young Choi, Amanda Church, Jeremy Coleman-Smith, Daniel Davidson, Mike Estabrook, Caroline Falby, Fred Fleisher, Lenio Grohmann, Carl Gunhouse, Sofia Hager, George Horner, Ketta Ioannidou, Roxanne Jackson, Tricia Keightley, Diana Kinglsey, Daniela Kostova, LoVid, Tricia McLaughlin, Mary Meehan, Anna Ortiz, Judith Page, Gary Peterson, Rachel Philips, Gustavo Prado, Tom Sanford, Janice Sloane, Gabriel Schuldiner, Russ Spitkovsky, Jeremiah Teipen, Nicolas Touron, Lane Twitchell, woolpunk, and Aaron Zimmerman.
---
Vive Benefit
Curated by Anna Ortiz and Rachel Phillips
Honey Ramka
56 Bogart Street, Brooklyn, NY 11206

July 27, 2017

---
Collect Hudson
Curated by Fred Fleisher and Michelle Vitale
The Benjamin J. Dineen, III and Dennis C. Hull Gallery
Jersey City, NJ 07306

July 6 – August 1, 2017
---
2017 SVA Makers Market
Metropolitan Pavilion
123 West 18th Street 2nd Floor
New York, NY 10011

Saturday, June 10, 2017

---
WGSN: New York Armory Week 2017
VISUAL MERCHANDISING: New York Armory Week 2017
Report by Jackie Chiquoine
WGSN, March 13, 17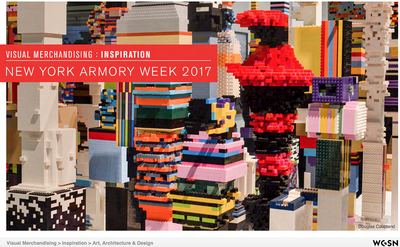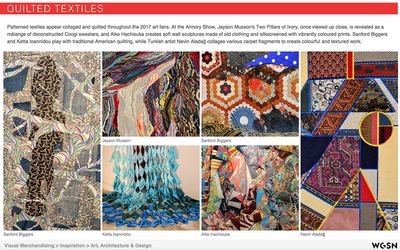 ---
---
---
SPRING/BREAK Art Show
Karma Chameleon
Fanny Allié, Alva Calymayor & Jen Dunlap, Eun Young Choi, Ketta Ioannidou, Daniela Kostova,

4 Times Square
New York, NY

February 28, 2017 | Preview Day
March 1 - 6, 2017 | Daily Hours
---
QUANTUM OVERDRIVE!
Curated by Fred Fleisher

The Benjamin J. Dineen, III and Dennis C. Hull Gallery
Jersey City, NJ

March 3 - April 19, 2017

With artists: Jude Borougham, Marguerite Day, Ketta Ioannidou, Joanne Leah, Tricia McLaughlin, Helen O'Leary, Rachel Phillips, Laurie Riccadonna, Adie Russel, Savannah Spirit and Woolpunk.